In Loving Memory Of Our Coco

CH Breslaus Coco Chanel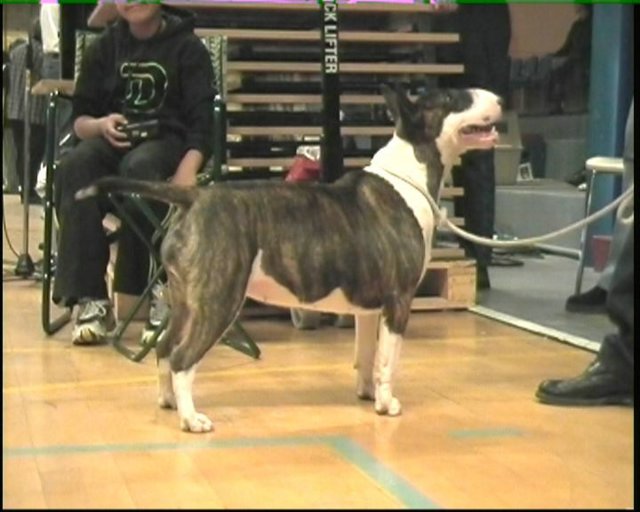 Coco's litter with CH Breslau's Rodrigo Velez can be seen here
Color: brindle and white
Born 24.01.2000
Breeder Kim & Bente Bressendorff

Titels: Danish Champion & Clubchampion 2002
Coco was Best Bull Terrier female 2002 & Best Bull Terrier #3 under the Danish Terrier Club 2002
as well as Best Bull Terrier #2 under the Danish Terrier Club 2005



Pedigree of Coco:
Sire
DK- & ClubChampion
Quest Xenon

Sire
AmCh
Jarrogue´s Jim Dandy

Sire
Action Newsflash of Booksale

Dam
AmCh
Jarrogue´s
MS Jennifer Jones

Dam
IntCh NCh SCh
Quest Quizqueen

Sire
SFCh DKCh WW´89 SFV´89 CPHW´88 & ´89
Hejano Grandee Curare

Dam
IntCh NCh SCh
Ghabar Treasure

Dam
DKCh
Pam v Bressendorf Imperator

Sire
DChKlb IntCh WW
Camquest Theo Sylvander Aricon

Sire
GBCh
Aricon One In The Eye

Dam
Kinbrig Kiela

Dam
DKCh SCh
Balrog´s Odine von Bressendorf

Sire
DKCh CPHW´94
Breslau´s
Zambezi Big Shut

Dam
Balrog´s
Lea Lodbrogdatter
From Vet. Carl Ole Rather:
15.01.2004

Ved klinisk undersøgelse d.d. af Bullterrien "Coco" (Breslau´s Coco Chanel) konstateredes normale forhold m.h.t. knæled/patellae samt hud, hjerte og kredsløb.
Medfølgende morgenurinprøve fra pågældende hund blev undersøgt m. urinstix, vægtfylde, mikroskopi og alle forhold var normale. Prøve for mikroalbuminuri (E.R.D. - Healthscreentest) viste normale forhold (prøven var negativ!)
In English:

During examination by today´s date of BullTerrier "Coco" (Breslau´s Coco Chanel) there was established normal conditions in regards to kneejoints/patellae, skin, heart and circulation.

The fresh morning urine sample brought for the dog was examined for urinestix, weight abundance and microscopic and all conditions were normal. Test for microelbowinuri (E.R.D. Healthscreentest showed normal conditions (the test was negative!)
__________________________________________________________________________________________________________
starburstbullterriers .dk © • 2010 • © On all pictures & text! • Private site.
All Rights Reserved, including rights to photographs.
No permission to copy or publish any portion of this web site is granted without the expressed written permission
of Starburst.
Contact Webmaster: RBR