In Loving Memory Of Our Magnus

CH Firebrand Kim
Danish-, Luxembourg-, Club- & International Champion, BTT´92 & WA94

♥ 12.05.1990 ┼ 11.04.2003

Breeder Ivy Nygaard

Unfortunately we had to say goodbye to Magnus, however we want to keep his website, as he is to be found in our girls pedigrees. He was also such a great personality that we just cannot erase everything about him..

Show results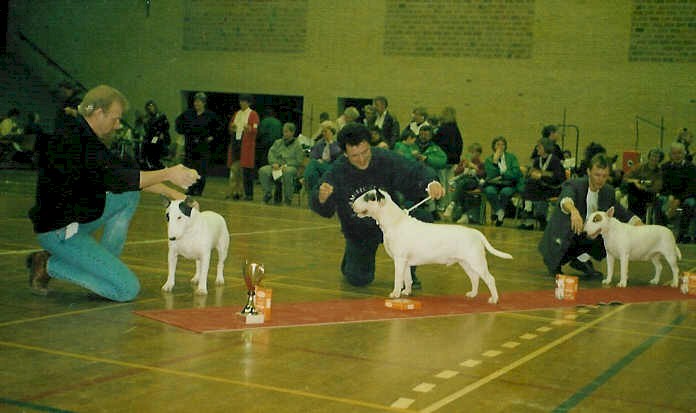 Høng, DK 24. March 1991
Best of Breed, CAC & BIS 3 Junior

Judge: Mrs. Juliet Shaw (GB) kennel Badlesmere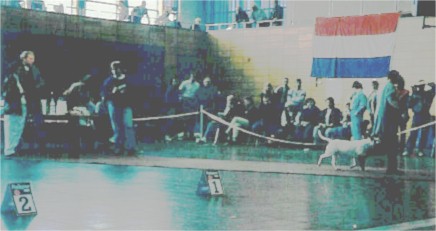 Castorp-Rauxel, Germany 1992 - DCBT Int. Trophy Show
Magnus placed as Runner Up White dogs
Specialty judge: Mrs Edith Mickletwaite (GB) & Mr David O. Harris (USA)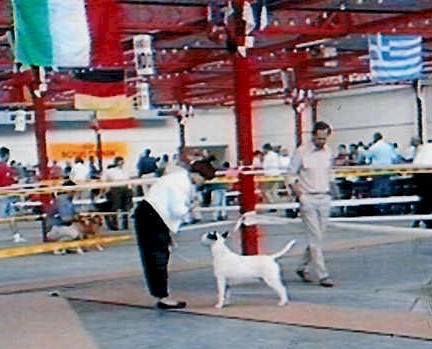 Mousceron International, Belgium 1992
BOB & Top Terrier Belgium 1992

Specialty judge: Mr Brian foy (GB)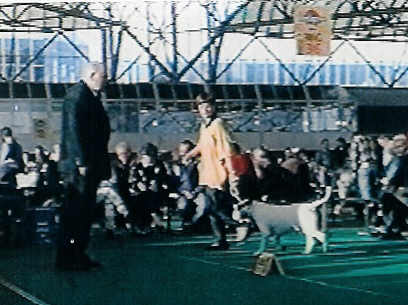 Amsterdam Winners Show, Holland 1994
BOS & Winner Amsterdam 1994
Specialty judge: Mr.Jaco Boume (NL)

The quality of some of the photos are due to age.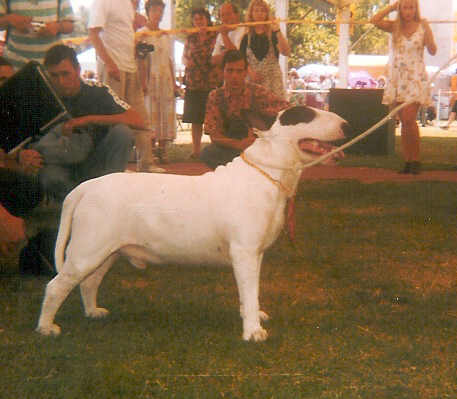 Budapest International, 1996
Magnus BOB and NEW International Champion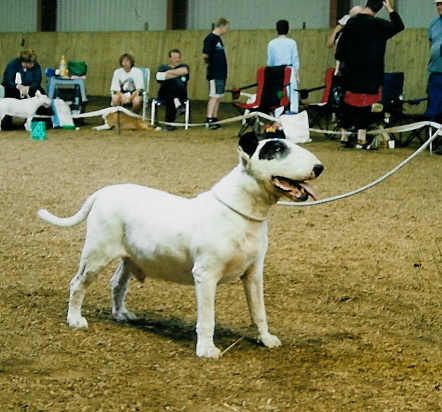 Vipperød, Denmark 7. August 2002 - Open Show under DTC
Best Veteran in Breed & Best Bull Terrier over 7 years
Judges, breedspecialists: Linda & Danny McGregor, GB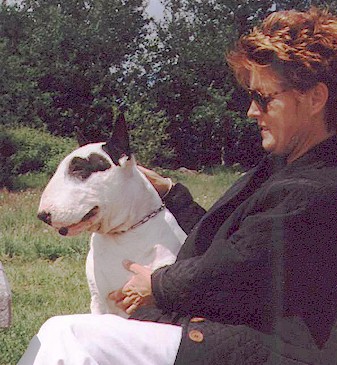 Jette and Magnus

Pedigree of Magnus:
Breslau's Talk Of The Town
HSG88 DEBYSg HRSg88 DKCh INTCh
Ghabar Guardian Angel
GBCh
Ghabar The Admiral
Ghabar Liberty

CPHW´91 DKCh

Swell Bell Of Eirdred

GBCh
Ghabar The Admiral
Jazzy Lady

DKCh
Firebrand Asta
CPHW´82 DKCh
Contango´s
Clown P. OF Hardra
GBCh
Hardra´s Prince Charming
Contango Chat Me Up
DKCh
Panzarkrafts Esmeralda
SCH NCh
Brigmore´s P. WarriorofHollyfi
INTCh NORDCh
Poppy of Phidgity
X
__________________________________________________________________________________________________________
starburstbullterriers .dk © • 2010 • © On all pictures & text! • Private site.
All Rights Reserved, including rights to photographs.
No permission to copy or publish any portion of this web site is granted without the expressed written permission
of Starburst.
Contact Webmaster: RBR